Austrian Club Bar
Friendly volunteers operate our fully licensed bar which provides a variety of alcoholic and non-alcoholic beverages.
We only sell quality products from around the world to provide our patrons with an authentic taste and experience no matter what your choice is. Prost!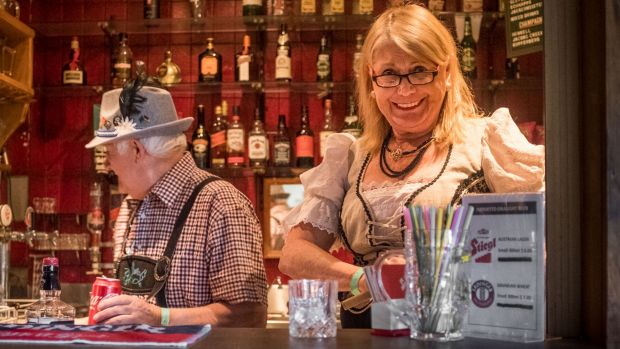 Beer

Wine

The delicious and refreshing drink has a longstanding tradition in Austria since the 14th century, today Austria has the highest density of breweries in Europe. The Austrian Club Bar is proud to offer a beautiful crisp Stiegl lager beer on tap, producer of high quality beer since 1492 and owned by the same family for the last 120 years. Be sure to ask your bartender for a "kleines" (small 330ml) or a "grosses" (large 500ml) on your next visit.

Bavarian's are well known for their wheat beers and there is none better than Erdinger so if you love a quality wheat beer of course you will enjoy Erdinger on tap at the Austrian Club Bar.

We also have a variety of Imported and local beer available in bottles to please every palate.

With over 4,000 years of wine making it is firmly implanted as part of Austria's culture. Grüner Veltliner (pronounced Grooner Veltleener) is the predominant white wine which is light and crisp and a welcome change if you are used to drinking Sauvignon Blanc. Red wines are dry and easy drinking.

Lenz Moser quality Austrian wines are available at the club and offer excellent value for money. Both of these wines are from the famous wine growing regions of Lower Austria.

Grüner Veltliner -Yellow-green colour, fresh and spicy bouquet, fruity body, lively fresh finish. Blauer Zweigelt - Ruby red colour with violet glimmer, fruity bouquet, cherry aroma. Full bodied red wine with spicy note, fruity finish.

We also have an excellent selection of Australian wines and the ever popular Sauvignon Blanc from the famous New Zealand Marlborough region.
Schnapps, spirits, liqueur.............radler or Almdudler?
Beautiful clear schnapps made from apricot, pear, apple, plum and many other fruits are a favourite of Austrians and traditionally enjoyed after dinner. Naturally we also have a variety of other spirits and liqueurs to choose from. For those that prefer lower alcohol drinks we also sell the wonderful Stiegl Grapefruit radler (2%) or soft drinks including Austria's own Almdudler.

---